Sunday, May 6th
Another lazy Sunday! Weather isn't the greatest so we are just hanging out. Grandma and Big Mike were invited out for dinner at Aunt Katie's and Uncle Brian's. Uncle Wulfe and Telli were not invited. How insulting! But Wulfe doesn't seem too upset…what's the matter with him? We were excluded! The center of attention was excluded!!! What do you think of that? I'm having second thoughts about those guys! Maybe they don't love me? Naw that would never happen everybody loves Telli!
Monday, May 7th
Another rainy day! I am just kicking back! I hate sky water drops on my head and on my back! But I do like to be dried off when we come back in…Rub-a-dub!!!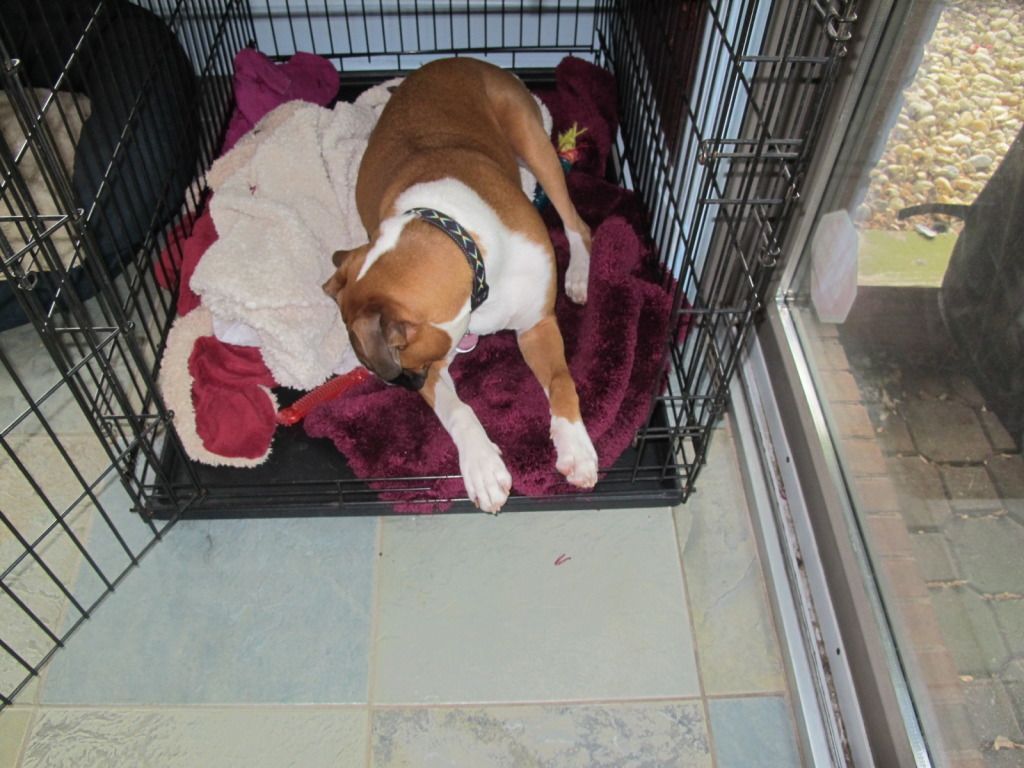 Tuesday, May 8th
Today I saw Angie I haven't seen her for a long, long, time. I go crazy I jump I flip, I give kisses, kisses, kisses and what did that get me? Just a trip to my place of employment, but that's okay I love Sheila too! Grandma told me that this is the time of the year that she has to do work outside and I cannot help. What can she be doing that I can't help? She tells Sheila she will be at the pool house getting ready for summer? I guess I will figure that out a little later! I hope it means something good!
Wednesday, May 9th
More water drops from the sky. Grandma's house on wheels has broken and needs fixed. So we are stuck here on the farm. That's okay with me! I will play all day!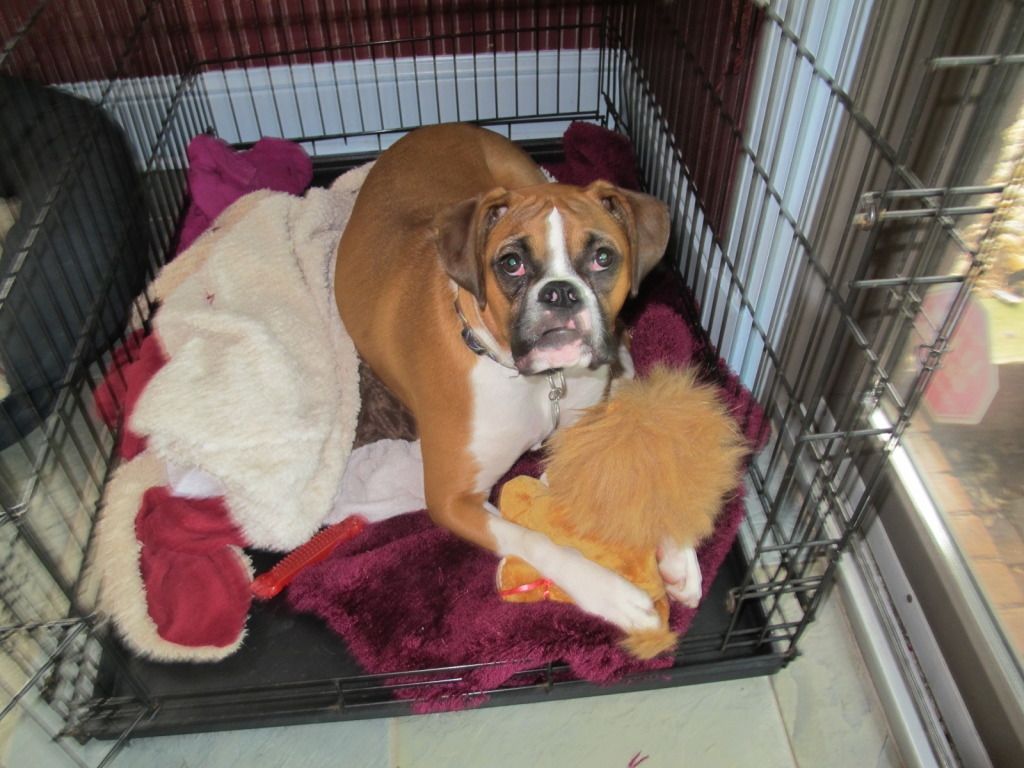 Thursday, May 10th
Yikes another day that I am sent to my place of employment! This schedule is really off! This is not Wednesday!!!! Grandma says she needs to get the weeds out of the gardens and I can't help! When she let's me loose again I will show her!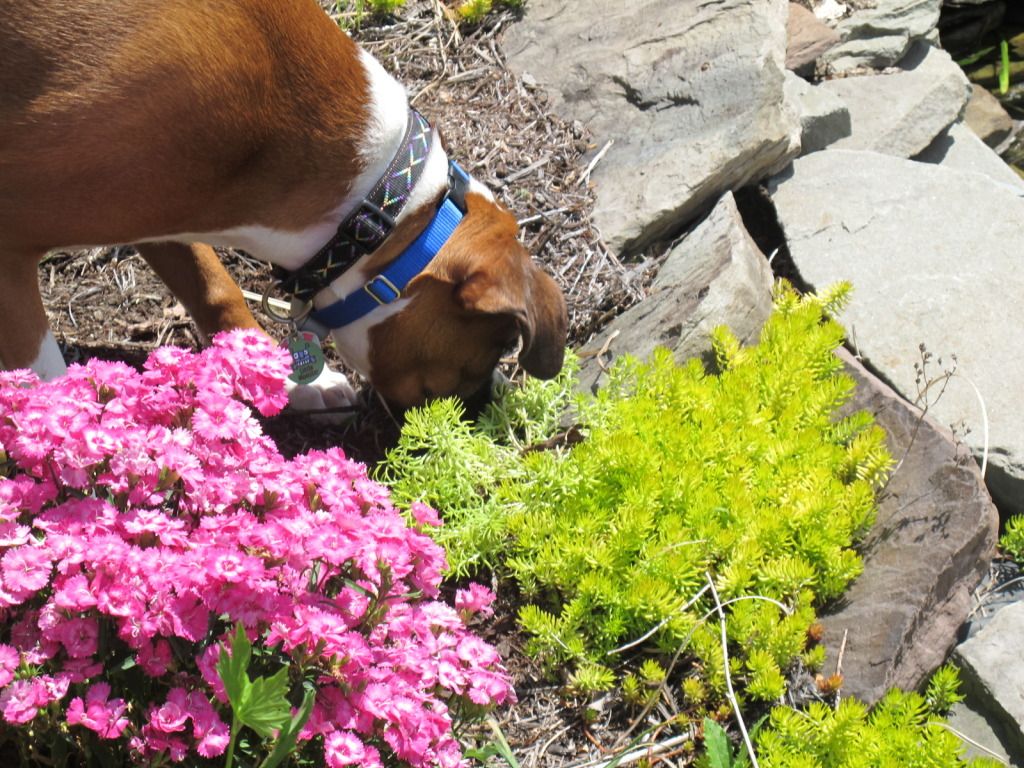 Grandma got her house on wheels back this morning and she went out the driveway when she came back she had some pretty flowers in the back! But she was not happy her house on wheels was not fixed it was still broken! Yikes!
Friday, May 11
Okay I have had enough of being ignored this week. First insult I am in Telli jail in the den for breakfast and Grandma is not letting me out I will try to get out and I will complain until I get out!!!
Now I will show you how nicely I go outside!
I got to help Grandma start some of her outside work today! She didn't work long because I was too much help! She put some herbs in planters and when she went to get more dirt I stole the parsley!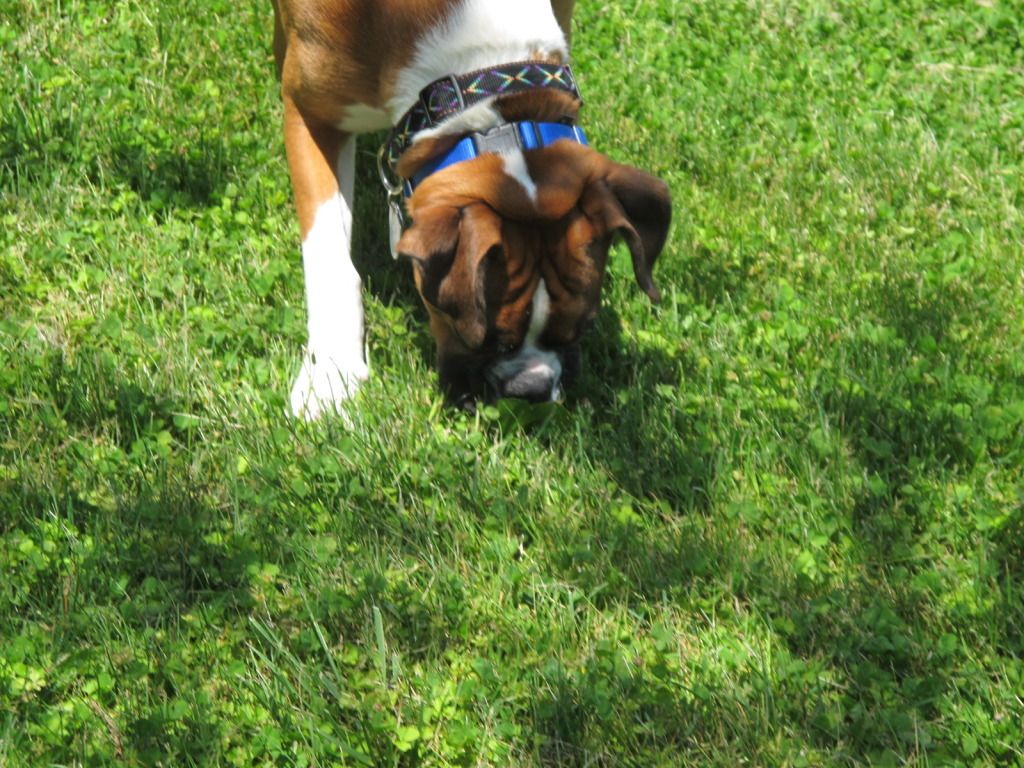 I like parsley!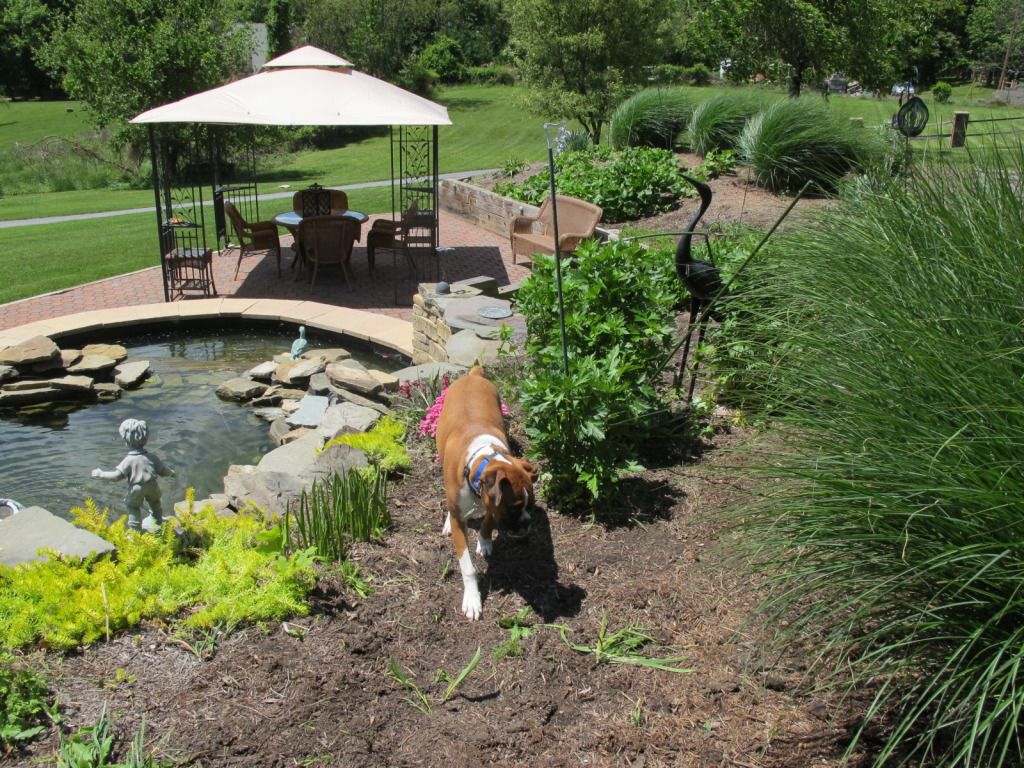 Grandma doesn't like me liking parsley. So then I decided to go exploring on my own Grandma had to chase me around the house and I would hide and then I would run away when she came close.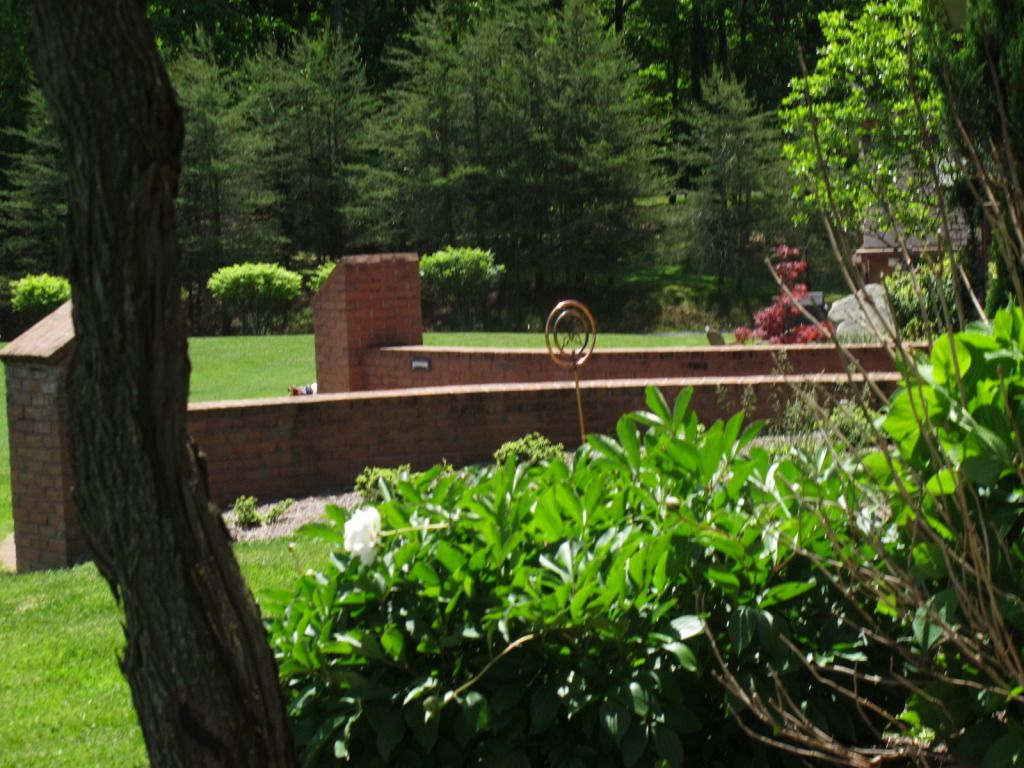 Grandma finally caught up to me and that was the end of me helping. She made me watch from inside the sliding glass wall. I paid her back by licking all the newly cleaned glass sliding walls! They now look very, very, very pretty! Grandma's face does not look very, very, very pretty when she sees my artistic creation!
Saturday, May 12th
Grandma and Big Mike are working with big pots, dirt and the flowers grandma bought. Me…Telli am helping.
I am outside with my special collar on! I am running like the wind sneaking up to snitch a bit of the pretty flowers.
I am running so fast and flying like the wind going in circles and through the flower beds.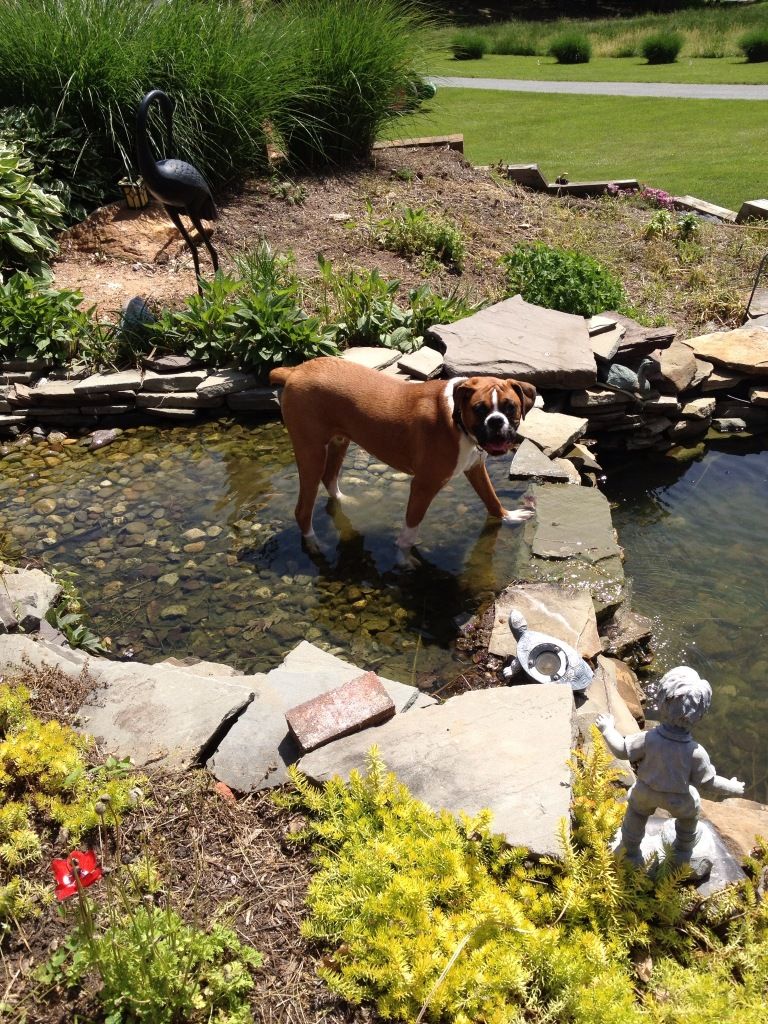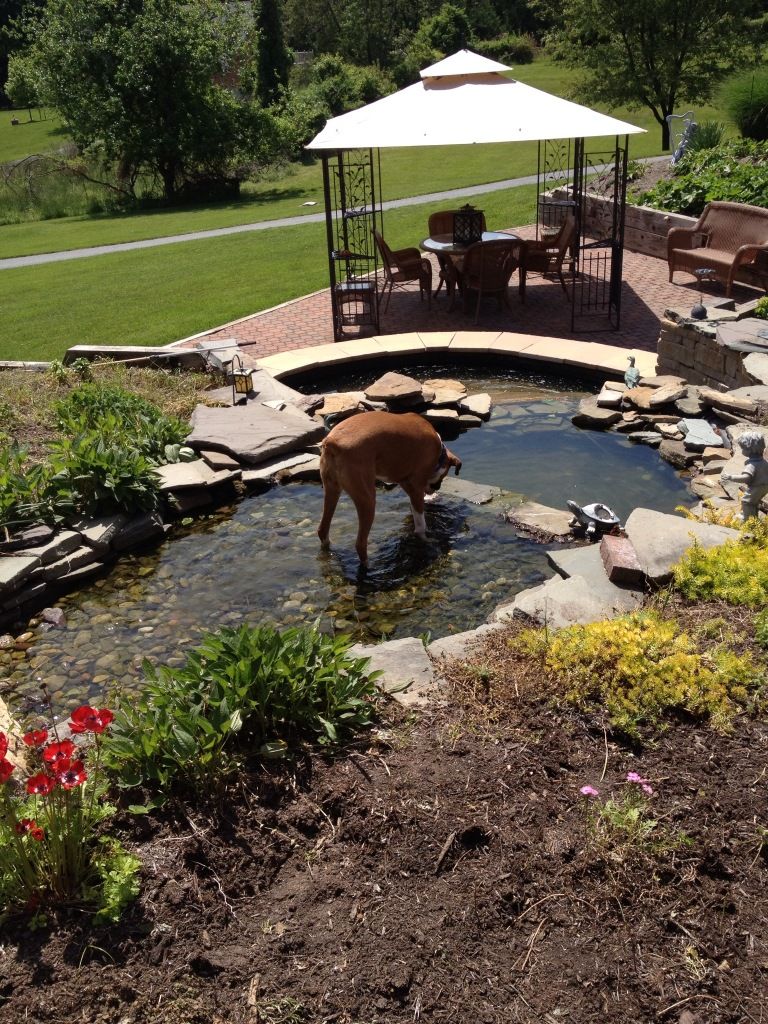 I come running down the hill and then it happens. Yikes I am up in the air and when I come down on my all fours I am no longer on the farm! UH-OH!! Now what do I do? I can't go back I hear the buzzing of my collar. I can't get home! Grandma hears me yap and she comes running , calling my name. Not only is she calling my name she is calling Big Mike to come help! Big Mike spots me on someone else's property. He comes to get me but I won't come back to the flag on sticks. Grandma comes with treats and I sit she takes off the special blue collar and tries to get me to come back home. Grandma and I can hear the collar buzzing. NOOOO WAAAY! I'm not going anywhere! I dig in again and big Mikes says "I'll get him" so Grandma takes the buzzing collar and starts to walk towards the flags on sticks. And Wow… Pow…Zap-pa-roo…Grandma lets out a yell and jumps in the air. Talk about funny!!! I almost wet myself and Big Mike too! We were both laughing behind her back! That is what she gets for getting me that stupid collar! Current stats: Telli 1: Grandma/Big Mike 7. I will catch up just mark my words!