Yesterday afternoon Brian and I made the drive up to the Jersey shore to spend the night with my friend, Mary, and to participate in The Color Run this morning in Atlantic City. On our way to Mary's yesterday, we stopped at Sports Authority to pick up our race packets and were surprised at the organization of everything. After we checked in and received our wristband and bib, we headed to the second table to pick up the rest of our packet. Each packet was already put together in a Color Run ziplock bag with our race t-shirt, a "happy" tattoo and a "The Color Run" tattoo, a "Color Runner" headband and a packet of color for post race celebrations. In addition, Sports Authority had a slew of its all-white apparel on display in the front of the store to help customers who wanted to deck themselves out in a "white-out" to start the race.
The race was being held at Bader Field in Atlantic City which was a great location for something of these sorts. There was ample parking for participants and even though the race guide said to arrive before 7:00 a.m., we arrived around 7:35 and only had a little wait to get into the parking lot. Once we entered though, parking was a breeze. We gathered our things and headed to the start line in our crisp white outfits.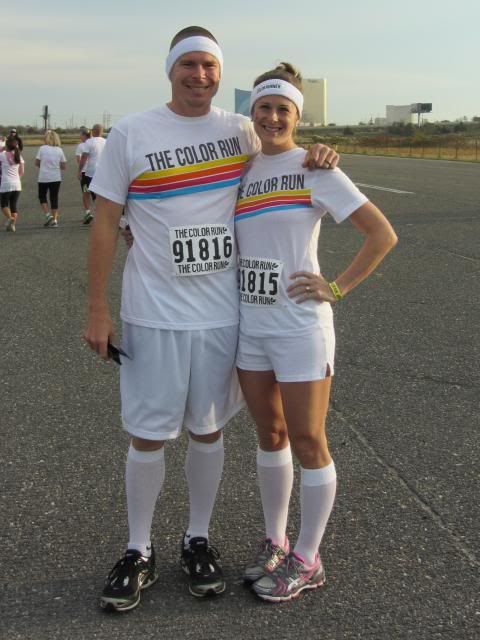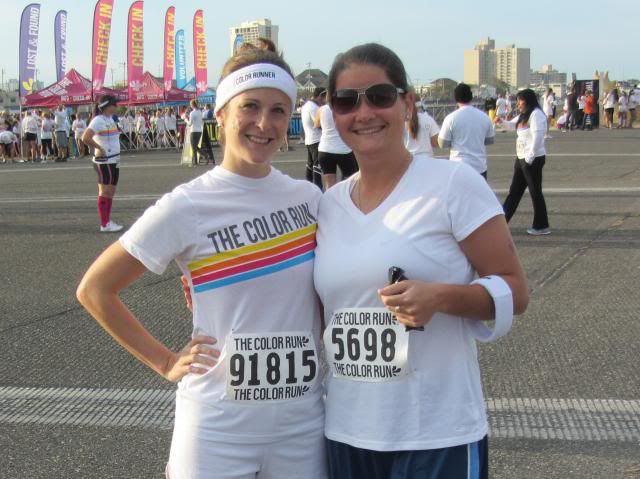 The start window was from 8:00-9:00 a.m. and as people lined up at the start line, the race directors would release waves of runners every 20 minutes or so. Some of those waiting in line for the next start countdown to happen, had fun with their color chalk which left us blasted with some color before we even began the official race.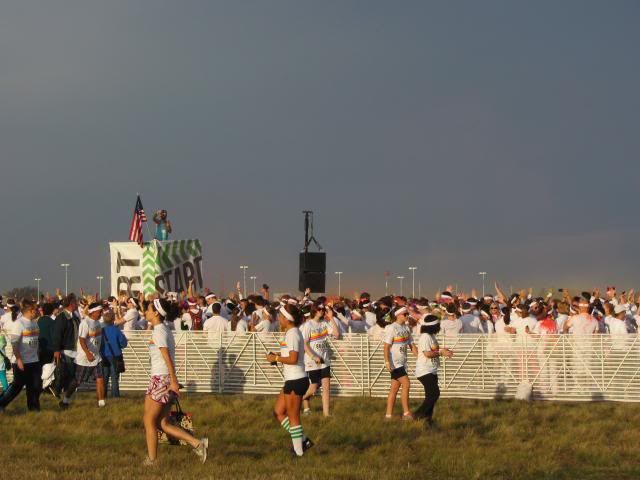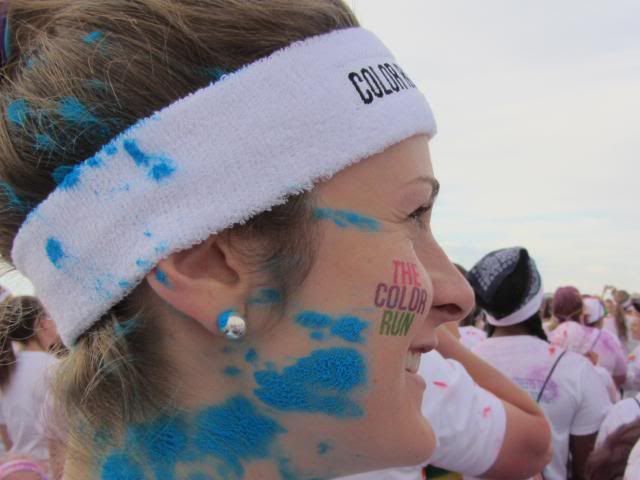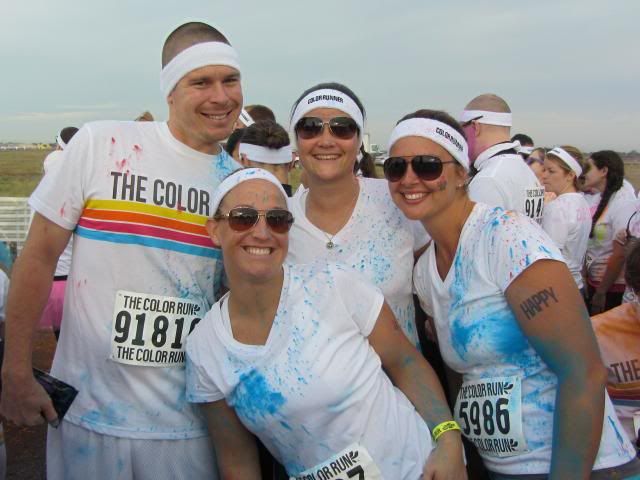 An emcee and start line color man were the entertainment while we waited between wave starts.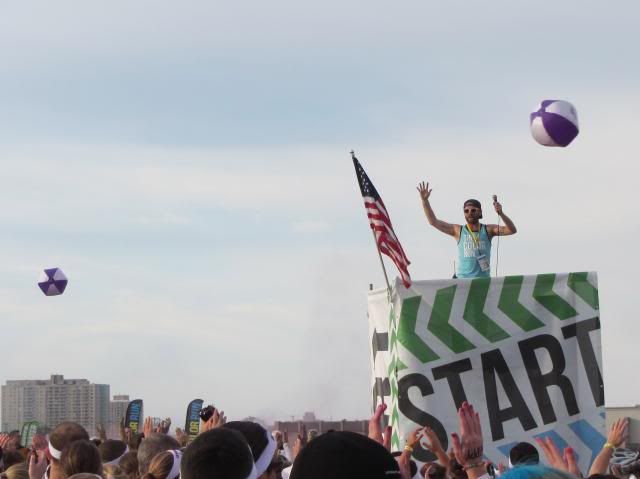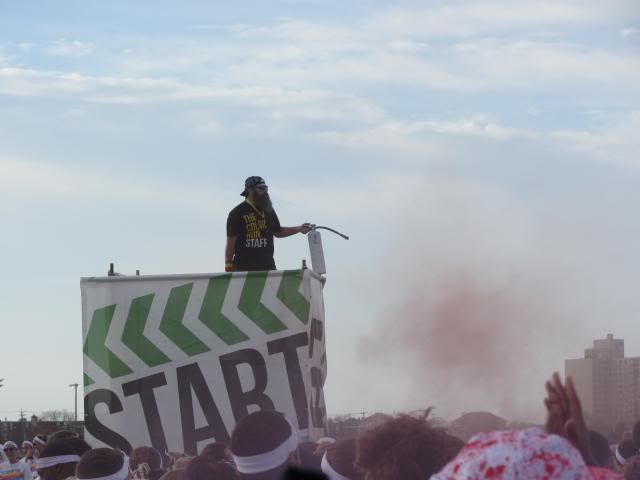 Once we were on our way, the course consisted of two down and back stretches on what seemed to be long runways (I'm assuming this was an old airport location?!) where the real fun entered with color galore!!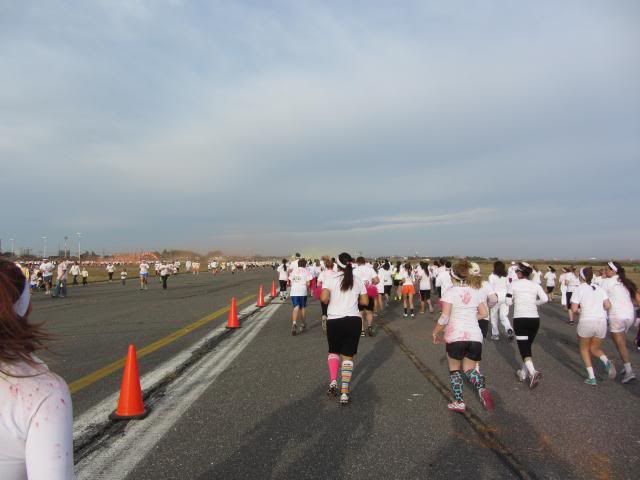 At each kilometer mark a different color chalk was being thrown on you and at you from all directions! First up was yellow.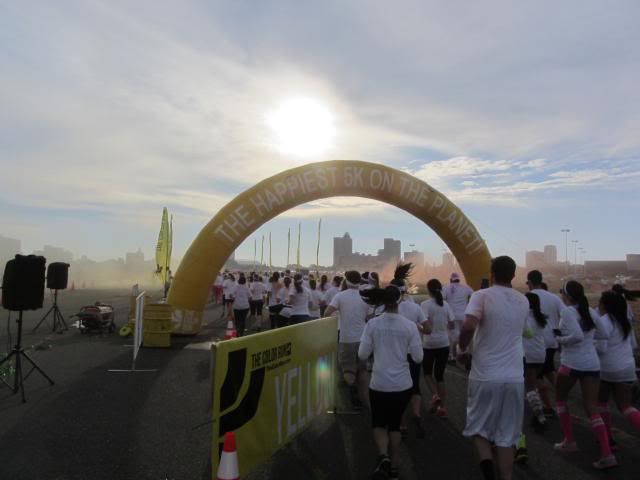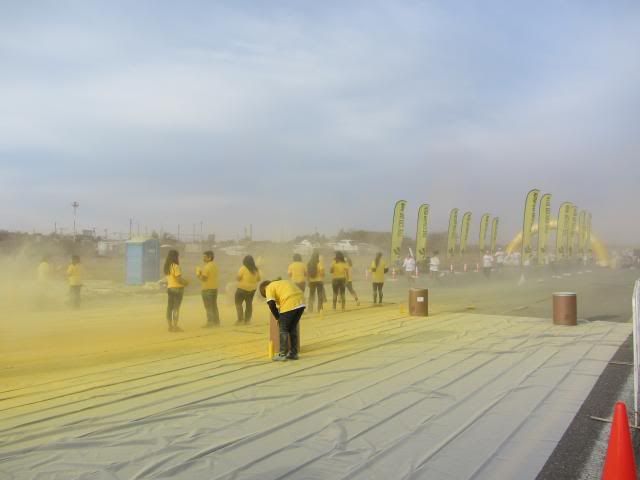 Followed by orange.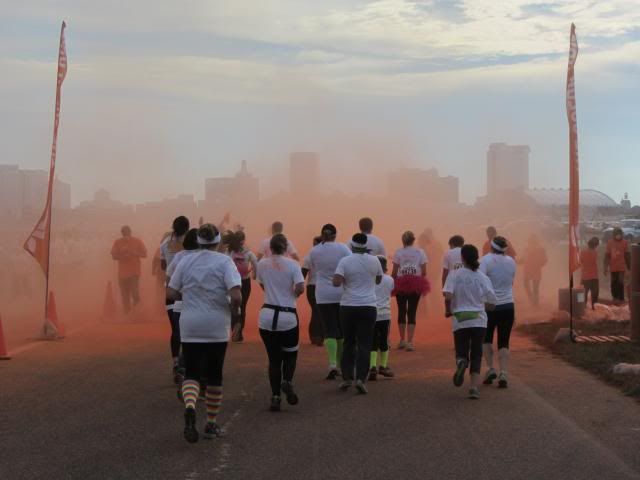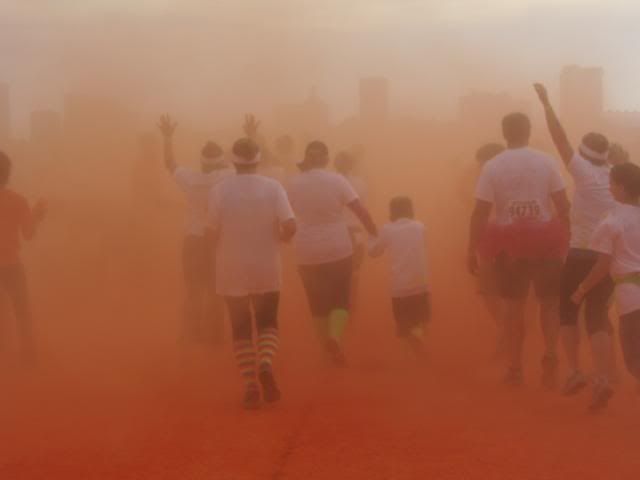 And then some halfway point in-race photos ops with the city behind us – obviously!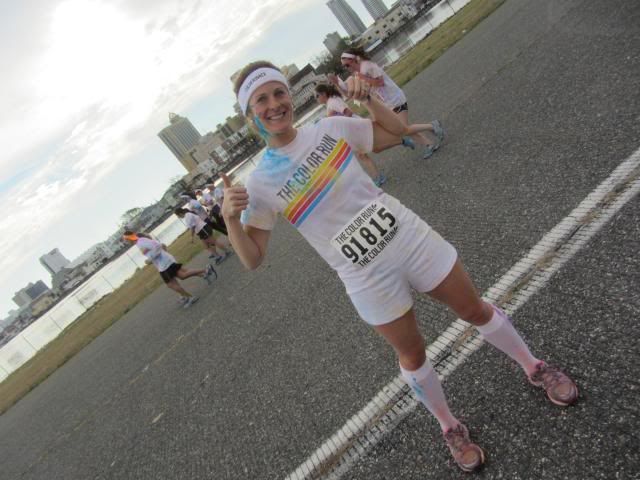 Kilometer three showered us in pink coloring and finally the fourth kilometer was a sea of blue!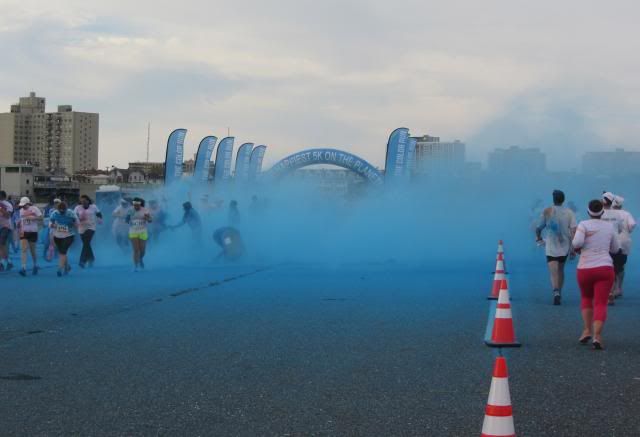 It was definitely weird running through the clouds of colored chalk and at some points you really could only see a fog of whichever color you were currently passing through. Race staff had bins and bottles of the chalk and were having a blast dousing the participants!
Once we crossed the finish line, we entered the finishers area where KIND bars and water were being handed out to race participants, music was playing on stage and color parties were happening all over the place.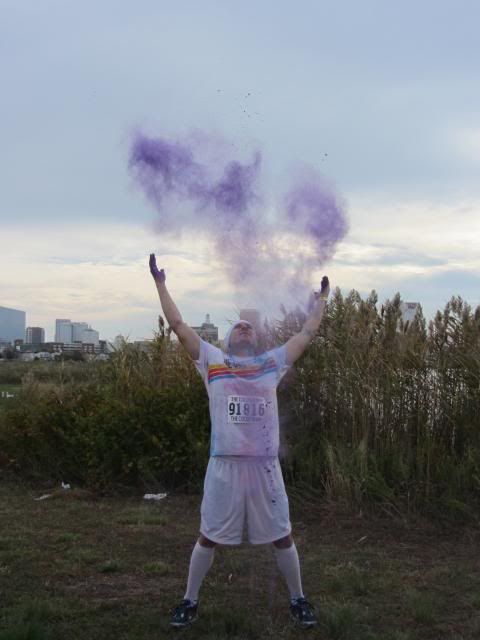 We hung out for a bit enjoying the music and nice morning that it turned out to be before heading to get blown clean. Two race staff members had big leaf blower like machines to blow the loose dust particles off of participants before they headed to their cars.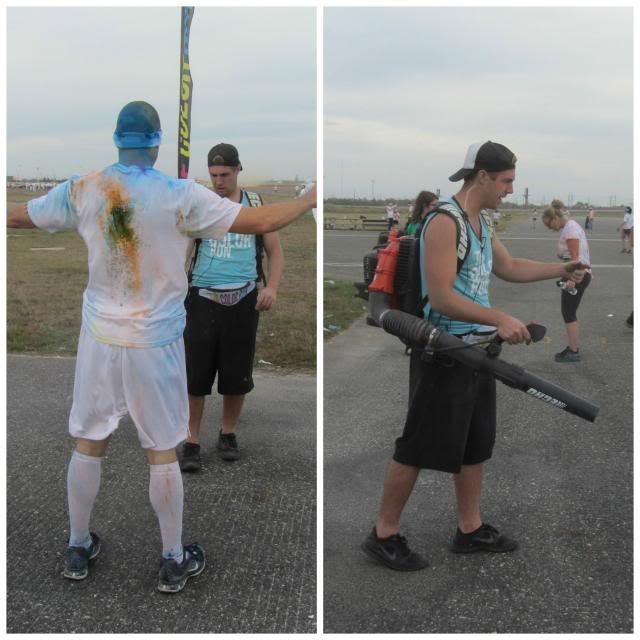 The majority of the loose dust came right off with the blower, however, any areas that got wet (aka where you sweat) the color was pretty blended in to your skin! It was nothing a long shower and a lot of body wash couldn't combat though!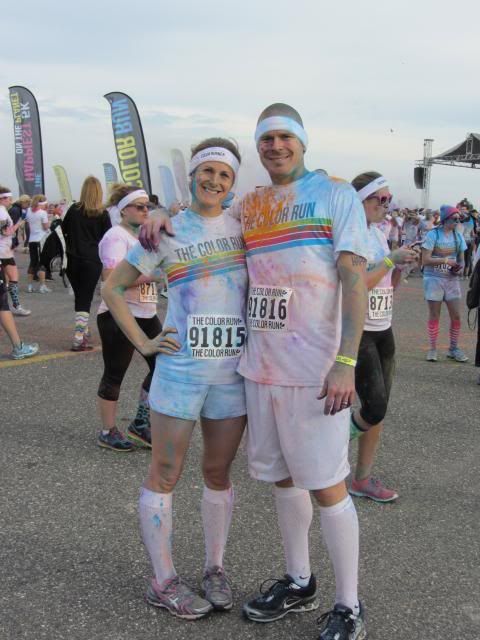 Overall, The Color Run really was a lot of fun and a great way to spend time with friends. I didn't even realize that we were running a 5K and just enjoyed the relaxed, happy atmosphere!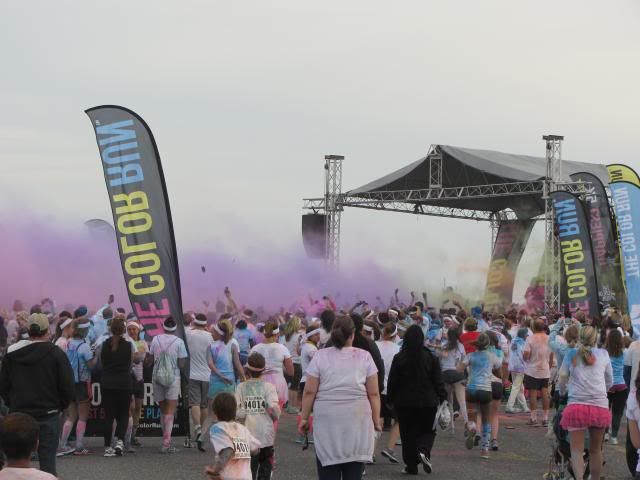 If you get a chance, I would definitely recommend participating in one of these events in a city near you! Thanks Color Run for a wonderful, colorful Saturday morning!
A few notes to runners:
Take a plastic baggie to carry your phone or anything else that you don't want to get covered in the color dust.
Most of the color came out of our clothes after washing them.
Take towels to wipe off before getting in your car – and to cover the seats.
Don't talk while running through the color zones – I had blue teeth for a while!!
[Disclaimer: The Color Run provided me with a free race entry for promoting and reviewing the race for them, however, all opinions on the race are my own.]