Day two of no snooze button and I was up and at 'em again at 5:10 a.m. Both mornings so far, I have wanted to hit the snooze button and stay in my warm bed but I have fought the urge and got myself up. I won't lie though, each morning I tried to think of as many excuses or ways around the snooze button as possible.
"If I just lay here and fall back to sleep, that won't count as actually hitting snooze, right?"
Or
"If I reset the alarm that is totally not hitting the snooze button."
However, in the end, no excuses were made and no ways around the snooze button were implemented.
Two for two.
And 38 more mornings to go.
Workout
I started with this familiar treadmill Tabata workout:
Each Tabata was four minutes, including 8 reps of each sprint/rest set. The two-minute recovery periods were completed at 6.7 mph instead of 6.5 mph. Moving out of my comfort zone.
After my cardio session, I loaded up the Playstation with the workout 1, phase 1 DVD of Body Revolution.  Since I am now on my second (and final) week of workouts 1 & 2 in phase 1, I decided for every exercise that has a modification that can make it harder, I am doing so.
My shoulders are already aching!  I guess (and hope) Jillian is pulling through for me once again!
Breakfast
I woke up thinking about the whole wheat baguette that I served last night's eggplant parm on and knew I had to incorporate it into breakfast somehow.
I sliced five small pieces and toasted them before spreading a Laughing Cow cheese wedge and blueberry jam between them.
Along with the awesome toast bites, I had one over-easy egg.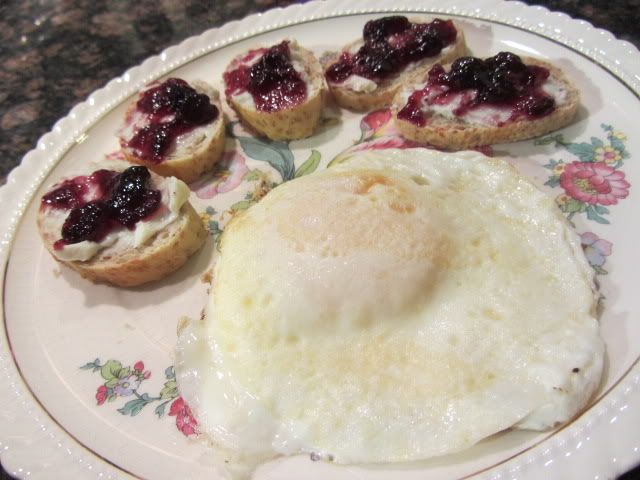 And a bowl of mixed blueberries, raspberries and blackberries.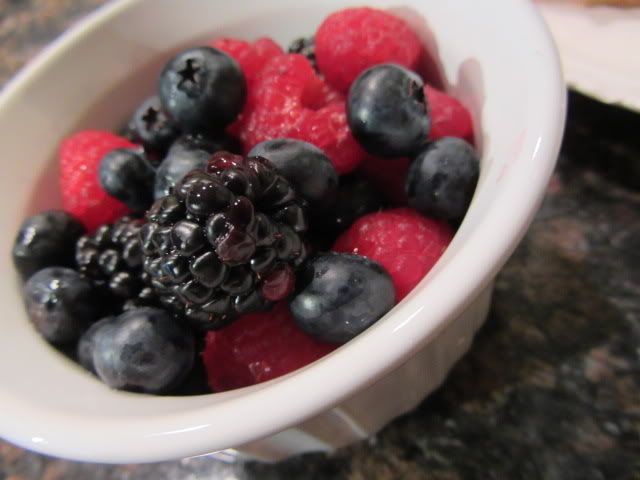 Obviously these berries aren't local but wherever they came from, I want to be there now. They are so flavorful and plain delicious. Yum.
Brian said the fruit in Japan is amazing right now. Hopefully it is the same in Korea when we get there!!
Question:
What is your #1 excuse for not getting out of bed when your alarm goes off?
What is your #1 way to convince yourself to do it anyhow?