The two best things that I packed for this roadtrip to OKC? Definitely the crockpot and rice cooker!
Both have already been put to use twice in the less than one week that I have been here. On Thursday night we had Sweet Apple BBQ Chicken over rice for dinner and tonight's dinner was another toss it in and (mostly) leave it to cook dinner as well.
Slow-Cooker Braised Pork with Salsa
(Adapted from: Eating Well Recipe)
Serves 6-8
Ingredients:
3 pounds pork butt with bone
1 1/2 cups prepared salsa verde
1 3/4 cups reduced-sodium chicken broth
1/3 medium onion, thinly sliced
1 teaspoon ground cumin
3 plum tomatoes, chopped chunky
Directions:
Place pork butt in slow cooker and turn heat to high.
Combine salsa, broth, onion, cumin and tomato chunks in a medium saucepan and bring to a boil over high heat. Pour over the meat. Put the lid on and cook until the meat is pull-apart tender, 6 to 7 hours.
Transfer butt to plate. Pour sauce, tomatoes and onion back into medium saucepan and skim fat. Bring to a boil over high heat and allow to boil for 20 minutes; skim fat occasionally.
While sauce is thickening on the stove top, remove meat from bone (it should easily fall off of the bone) and shred.
Add the shredded pork to the saucepan and heat through.
Serve over rice or strain juice and use seasoned meat for tacos or burrito bowls.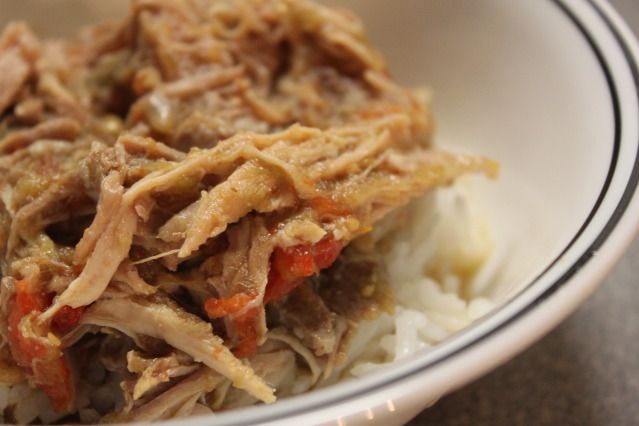 I have a feeling this pork could definitely resurface in tomorrow's lunch in some form!