Brian's game got cancelled today because of the wet fields so he made it home by 12:30 p.m., literally seconds after I walked in the door from venturing down to the fitness center for a run.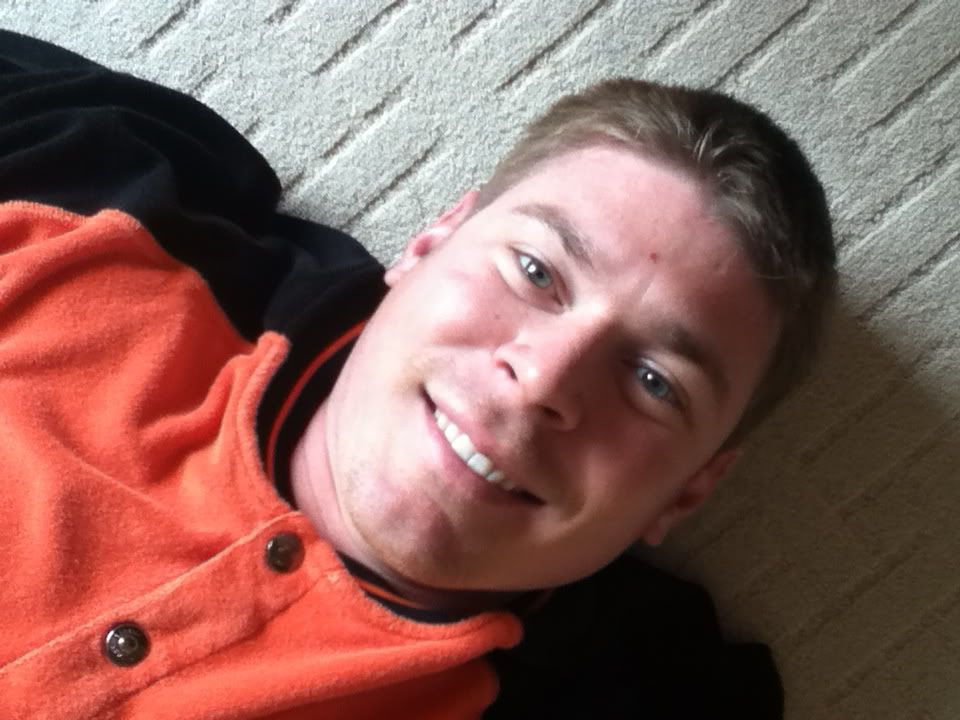 I was excited because it meant we got to spend the day together and he was able to show me around the area around the hotel and we made that trip to the running store and market like I had hoped!
Workout
I started my workout with another 5k (I have a feeling they are going to become quite common in my workouts now!) that I finished in 27:03. Definitely not as fast as I've been doing lately but given how my body feels and how hot it is in the fitness center, I'll take it.
Did you know treadmills need gas?
I'm not sure what the gas tank stands for but there is the icon at the top of the treadmill by the amount of calories burned and then also a preset program with the gas tank as icon that when pushed comes up with a fat burning program.
I guess calories = fuel = gas?!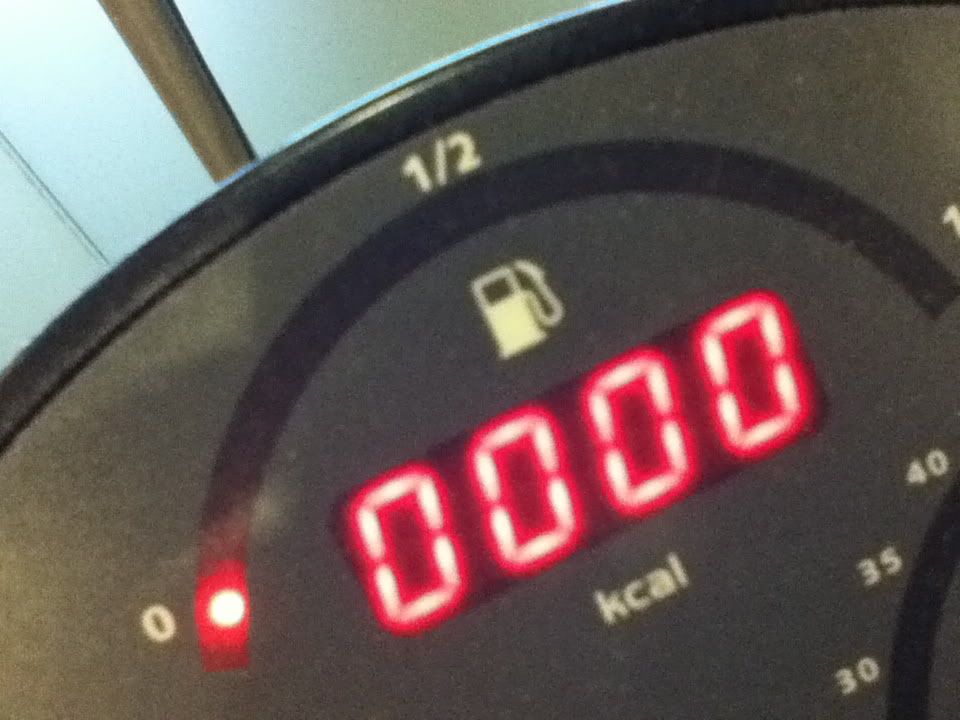 After my run, I broke out my weights and resistance cord for Body Revolution phase 2, workout 6. Another tough one. I already can't wait for these two weeks to be over and to my review on them. And I'm also sort of dreading seeing what phase 2 cardio has in store for me tomorrow!
Lunch
While we both were showering and getting ready to venture out, we ordered room service for lunch.
Spaghetti Bolognese for him.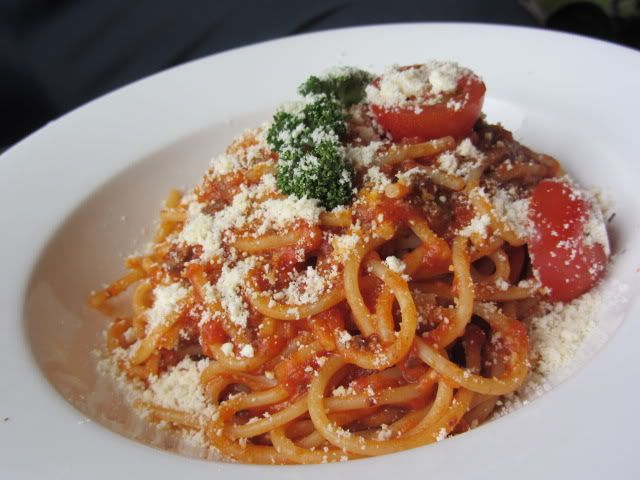 And a salad and onion soup for her.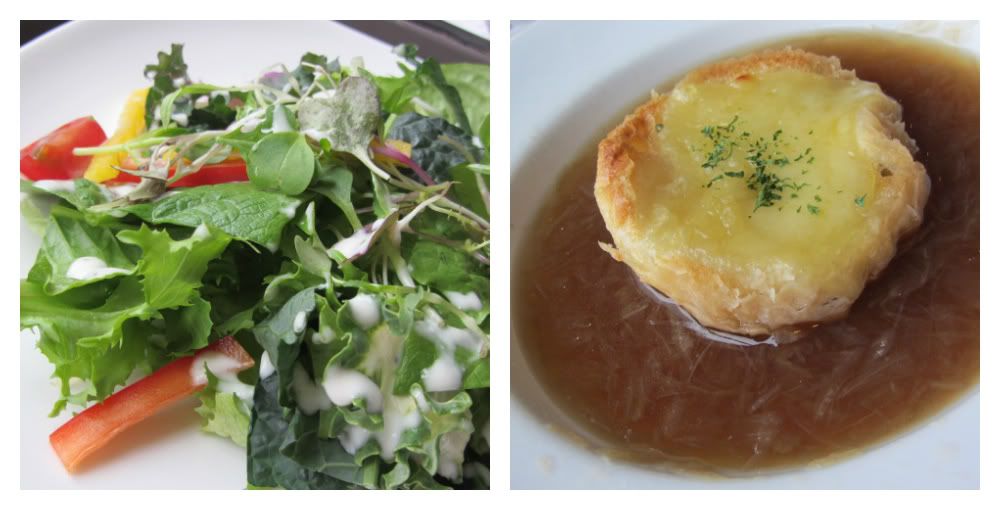 Who knew you needed four forks to eat a salad and soup!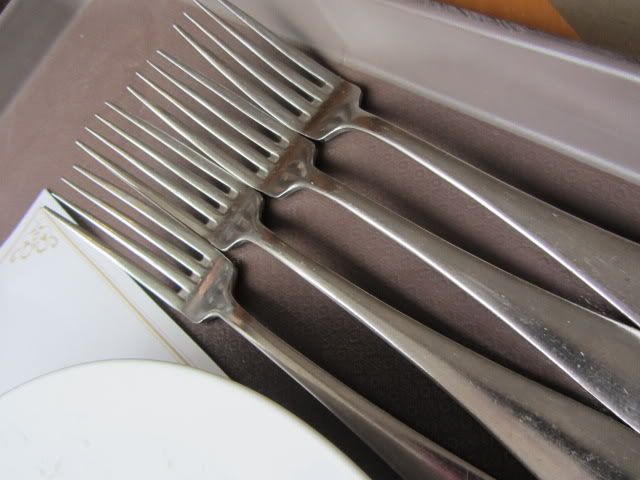 Good thing Brian was given two forks AND two spoons for his pasta so I wasn't slurping my soup from the edge of the bowl!
After lunch we took a walk around outside and just browsed the different things in the area around us.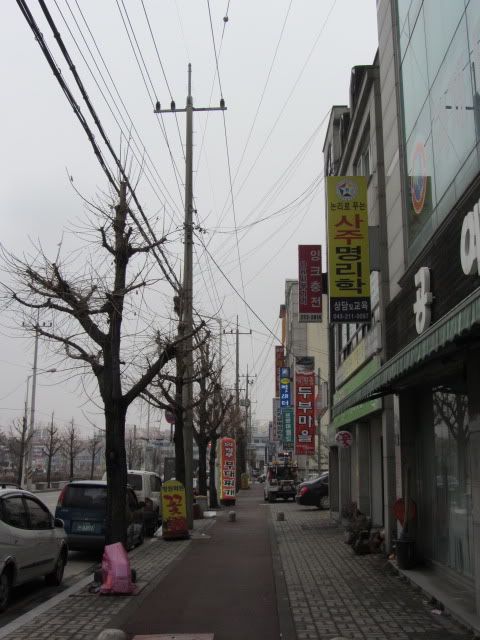 We stopped in a Family Mart and got a zero calorie drink to try. It tasted like a mix between 7-Up and straight up candy – you know I liked it. It was with some of the energy drinks in the cooler so we aren't sure if it was one or not. Regardless, yum!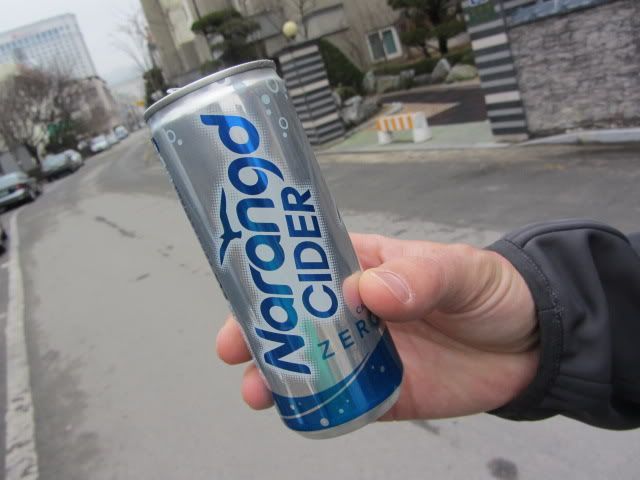 Vending machines like this can be found on random street corners everywhere according to Brian.  He said he has even seen them serving hot coffee in a can.  Pretty cool!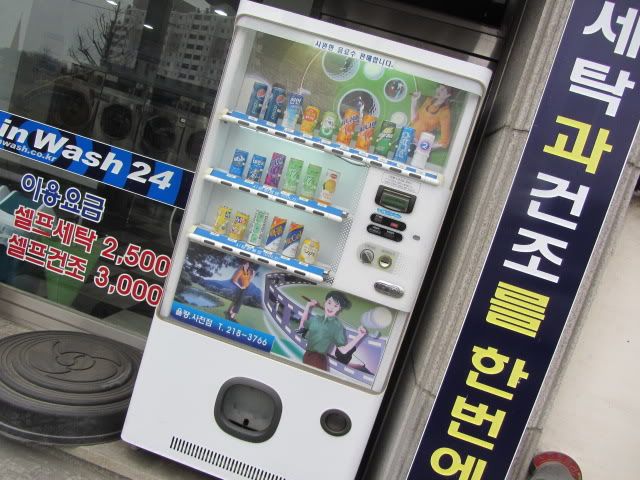 The running store we visited had some fun running shoes by the brand Prospecs. Too bad I don't think they make shoes in my size here! I heard they were hard to come by for large footed females. Bummer.
I think this makes Brian happy though because he doesn't have to worry about me buying a million more pairs while we are here!
Our little afternoon out ended with a trip to Home Plus. Basically a Super Walmart on crack!
Clothes, appliances, electronics, a food court, grocery supplies…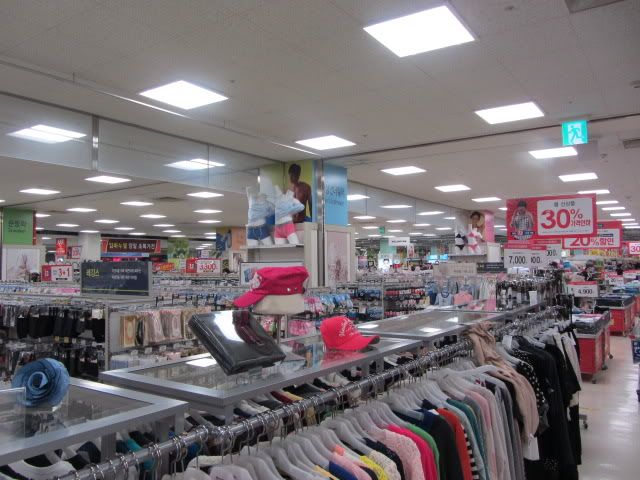 A fresh food section…
Even fresh fish and meat!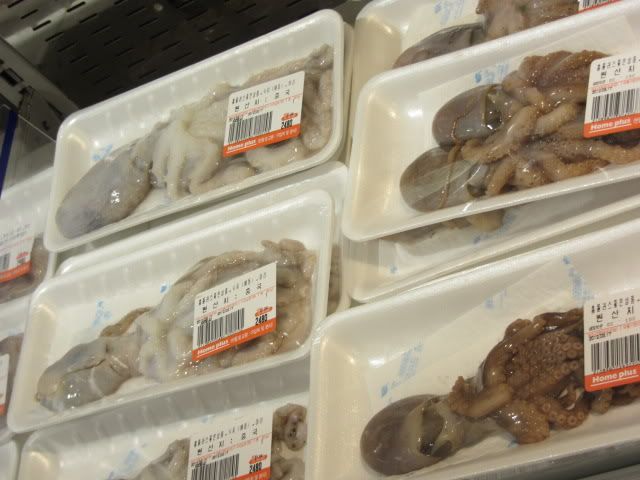 And a whole aisle full of beers and other alcohol and malt beverages.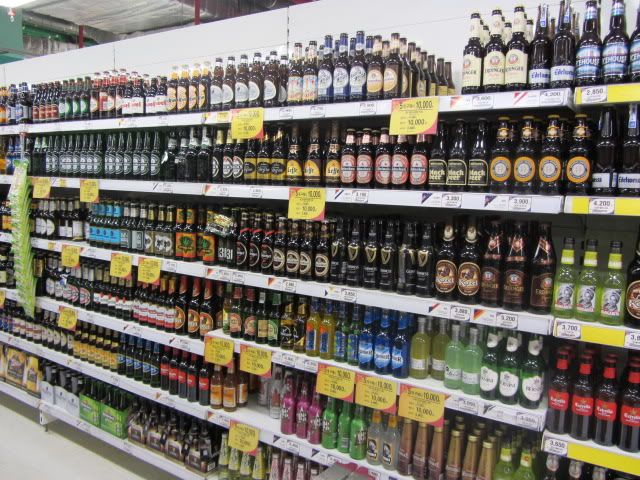 I had to make sure to search for some Irish beers for a little St. Patty's day love (and I wore my green today for it as well)!
We are going to go back on Monday to stock up on food for the apartment and I'm excited because I found some things that I'm looking forward to getting.
Like Laughing Cow cheese!!!  Apparently these Belcubes are made to accompany alcohol at parties and come in a variety of flavors.  Hopefully I can get my hands on some of the others!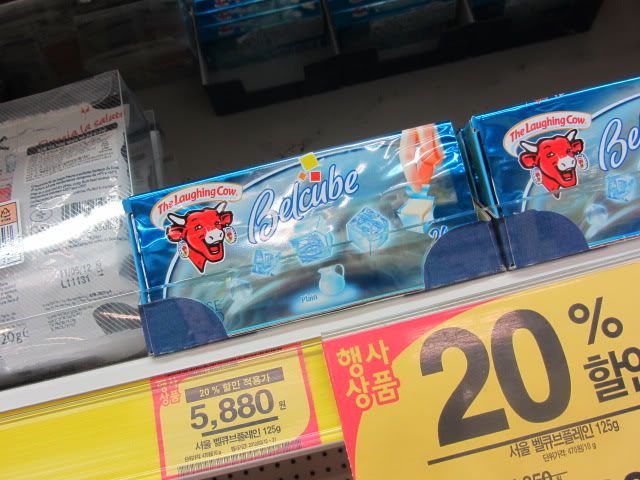 For this trip, we only purchased the cleaning supplies I have been after and a couple other small things, including a hair straightener for me since mine doesn't want to work even with the adapter (womp womp) but we did a lot of browsing so we are prepared to get what we need on Monday!!
Dinner
After a little rest time in the hotel room, we decided to head out for dinner (no more room service!) at a buffet that features Western, Chinese, Korean and Japanese food.
We both started off with plates of sushi.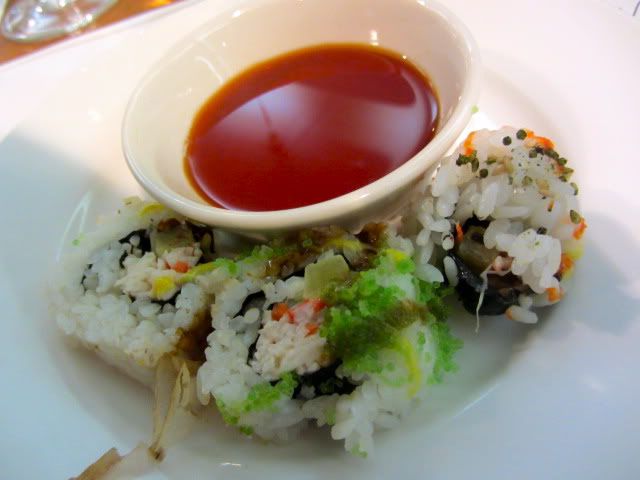 And a cup of pumpkin porridge for me.
On my next trip to the buffet tables, I filled my plate up with a mix of different foods to try, some I liked, some not so much.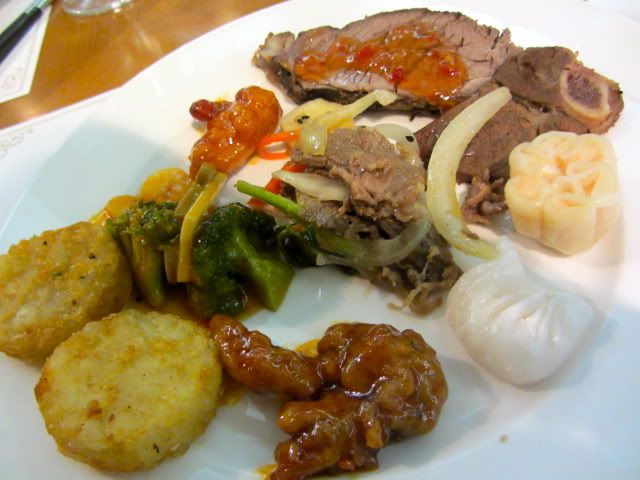 And we obviously shared a plate of amazing rice and rolls.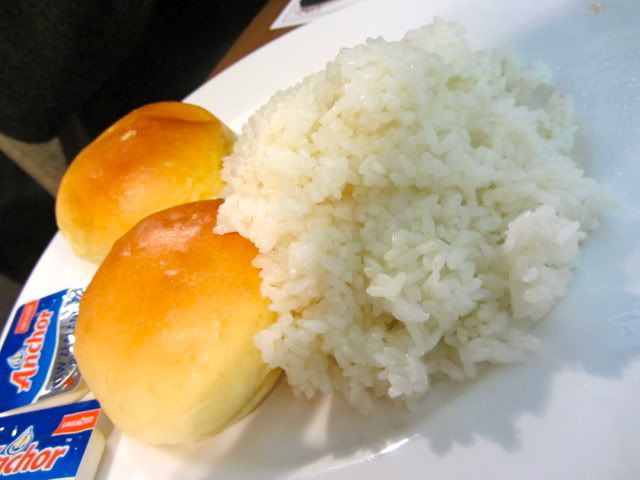 Since I couldn't partake in the dessert buffet, we stopped for some blueberry bread on the way back to our room. So good!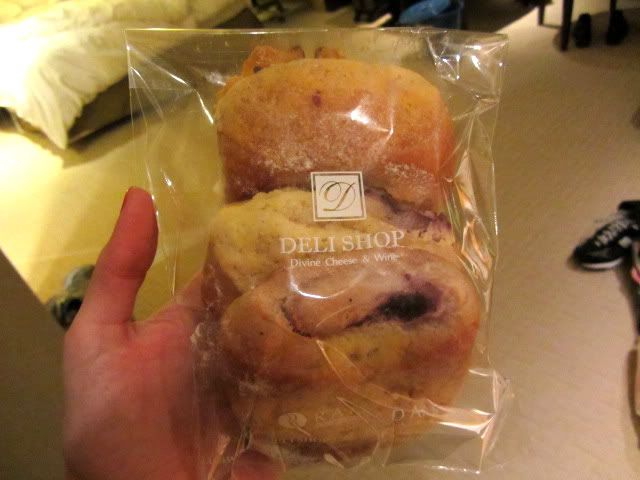 I can't wait till after Lent is over and I can try some of the other breads and pastries that are definitely "sweets" that are off-limits for me now!
And now it is just about 7:30 p.m. and I'm very close to curling up in bed and calling it a night.  Seriously jet lag, I'll say it again, you suck!
Question:
Do you like eating dinner at buffet restaurants?  I like them, especially when they offer a lot of different options like tonight!