Now a days, a lot of couples see each other prior to the ceremony on their wedding day. They have what is called the "first look" which usually entails the bride and groom meeting in a private area before the ceremony and turning to see each other at the same time. In most instances, the photographer shoots this moment and in turn captures the look on both individual's faces when they first see one another as a bride and a groom.
One of my favorite moments at any wedding is when the groom first sees his bride at the end of the aisle. I love watching his face just fill with joy and I've always known that there was no way I would be one for breaking the tradition of that emotional moment.
With that in mind, another hot wedding day trend did happen to catch my attention for a pre-ceremony "moment" between the bride and groom. This moment allows the two to get to spend a little time together without actually seeing one another. It still allows for a sentimental moment but also allows the first look to be kept for the ceremony.
Thanks to blogs and Pinterest, I  came across a multitude of photos capturing this moment between brides and grooms, mostly utilizing a door to separate the two – allowing only their hands to touch. I mentioned to our photographer prior to our wedding day that this was something we were interested in so once he was at the house the morning of the wedding, he scouted out a location on the property that would be perfect.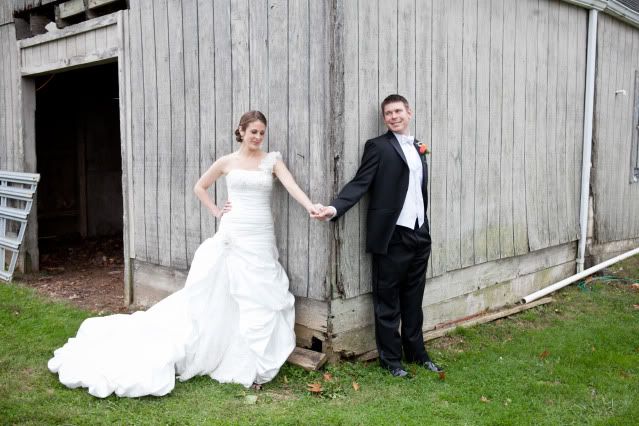 Instead of using a door between Brian and me, Richard suggested the use of one of our barns. He staged Brian on one side while his wife, also his assistant, was bringing me to the perpendicular side of the building.
The barn was also used in some of our engagement photos on my parents property as well, so the location couldn't have been more perfect.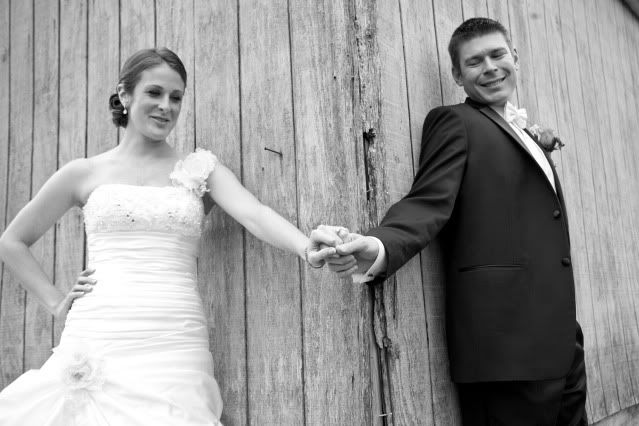 I absolutely love the way these photos turned out and I loved the moment that Brian and I got to spend together prior to the craziness of the remainder of the day.
We didn't see each other but still got to touch the each other's hand while having a quiet moment to say hi and really take in what the day was all about.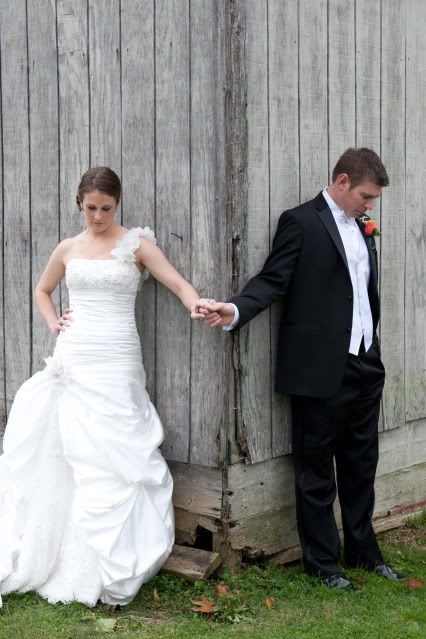 After a couple straight on shots, Richard gave us a minute alone while he shot from a distance and captured another aspect of the scene.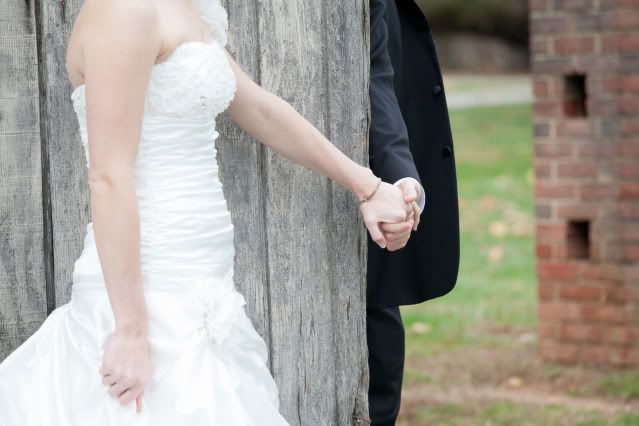 I honestly don't remember much of what Brian and I said to each other besides, "hi" and "are you ready", but just being there with him comforted me and eased the tiny panic attack that sneaked up on me just moments before.  In that moment, I knew that no time schedule or anything else mattered on our day except us.
Next up in the wedding day recaps: Pre-ceremony photo shoots
*All photos in this post were shot by Richard Veytsman Photography