I've been doing a lot of Pinterest browsing over the past few days all in hopes of finding creative wedding photo ideas. When it comes to having snapshot memories of our big day, I not only want the specialness of the day to be caught on film, but I also want the fun and the little details that scream "Jenny and Brian" to be preserved as well.
With that in mind, I have been saving different photo ideas that I want to pass on to our photographer so that he has an idea of what we are looking for beyond the usual wedding day photographs.
Here's some of the photos I have come across that I absolutely love…
I love the crisp, clean look of this photo of the groomsmen.
My Bridesmaids' dresses have detailing on the back as does my dress so I think a shot from behind is necessary.
Absolutely love the idea of the behind the door picture before the ceremony.  I'm not very traditional in certain ways but in others, I am.  Therefore, there will be no "first look" before we see each other at the church.
Since we won't be having doing a "first look", we will definitely be getting a picture like this taken…I just hope I don't ruin my make up before we even get to the church because I'm positive I'm going to be an emotional disaster as soon as I hear Brian's voice on that morning.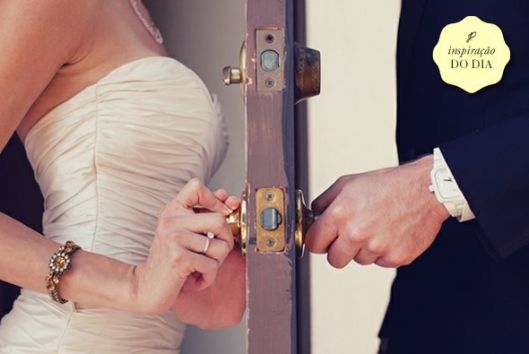 I love how the Bridal Party is shown off in this picture!
We have a fabulous staircase at our reception site so hopefully something like this can be pulled off.  This is also another "pre-ceremony" picture idea that I like with both the bride and groom included but they still aren't seeing each other.  I'm hoping to do something similar utilizing my parents' barn and balcony that we used in our engagement pictures!
Just super cute!
Loveeeee!

Gotta show off the shoes!
Adore how this picture captures the reception in the background but only the bride and groom are in focus.  I think it perfectly portrays the feeling that I hope to have on our wedding day – a room full of people laughing and celebrating, yet all that I can focus on is my new husband.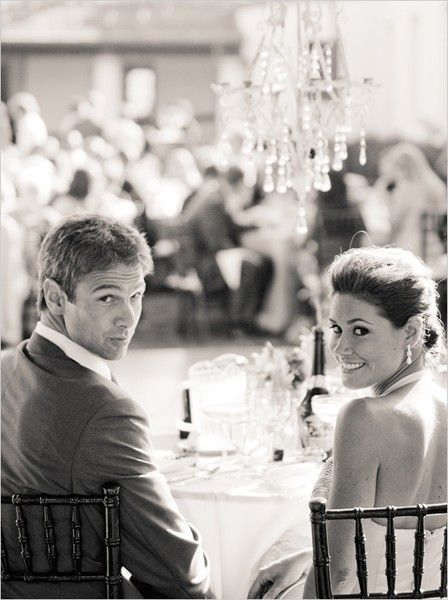 Another fun Bridal Party one!
So romantic.  Now…do I want to be in the grass in my wedding dress?
Love the idea of this one but I know we won't have time or the space to pull it off.  Very creative though!
Then obviously there are some baseball inspired shots as well…
A kiss on the mound.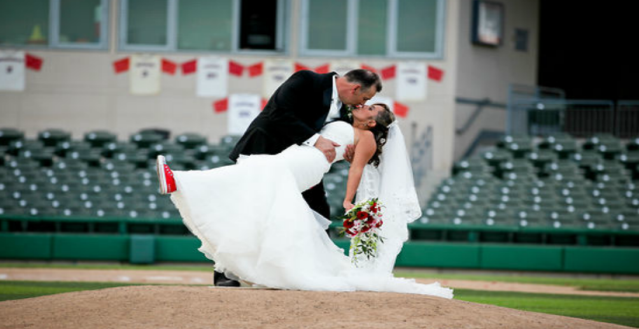 I like this but with a baseball glove, like in our engagement photos at Camden Yards.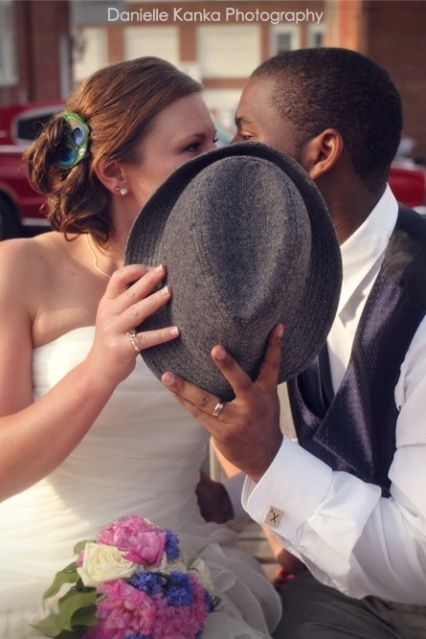 Fun play time for the boys (without the back drop).
I'm sure I'm going to find a thousand other ideas that I simply love and I can't wait to see how we incorporate them into our wedding day photos.
Question:
What are some of your favorite wedding photos? 
*click images for source