As soon as Brian and I set the date for a fall wedding ceremony, I knew I wanted pumpkins to be incorporated into the reception in as many ways as possible. Obviously, a great place to start was with the centerpieces, so my mom and I got right to brainstorming arrangement ideas.
After some thinking, discussing and internet searching we came across Funkins and knew they would fit perfectly into the ideas we were coming up with. We placed an order for 20 (14 to use on half of the reception tables and 6 extra, just in case
) and Mom began experimenting with carving them as soon as they arrived.
We ended up deciding on "J ♥ B".
It took a fair amount of time to get each pumpkin prepped to be the arrangement holders for half of the table centerpieces. For each, we had to cut the stem of them pumpkin off with a hole big enough to hold the base of the arrangement to sit on top.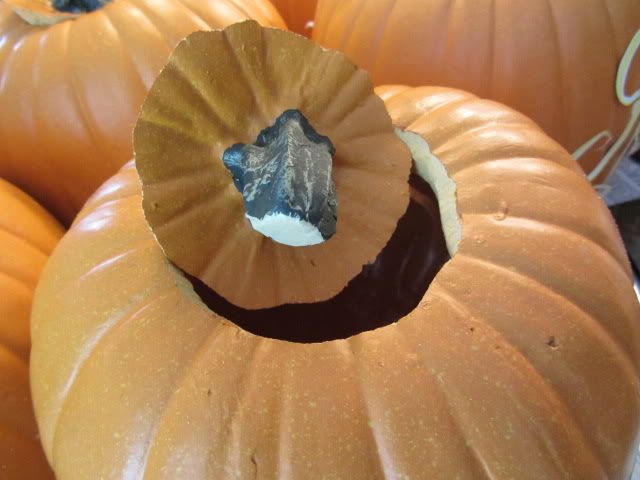 Then we had to enlarge the hole already carved in the bottom of the pumpkins to allow for our battery operated candles to fit inside.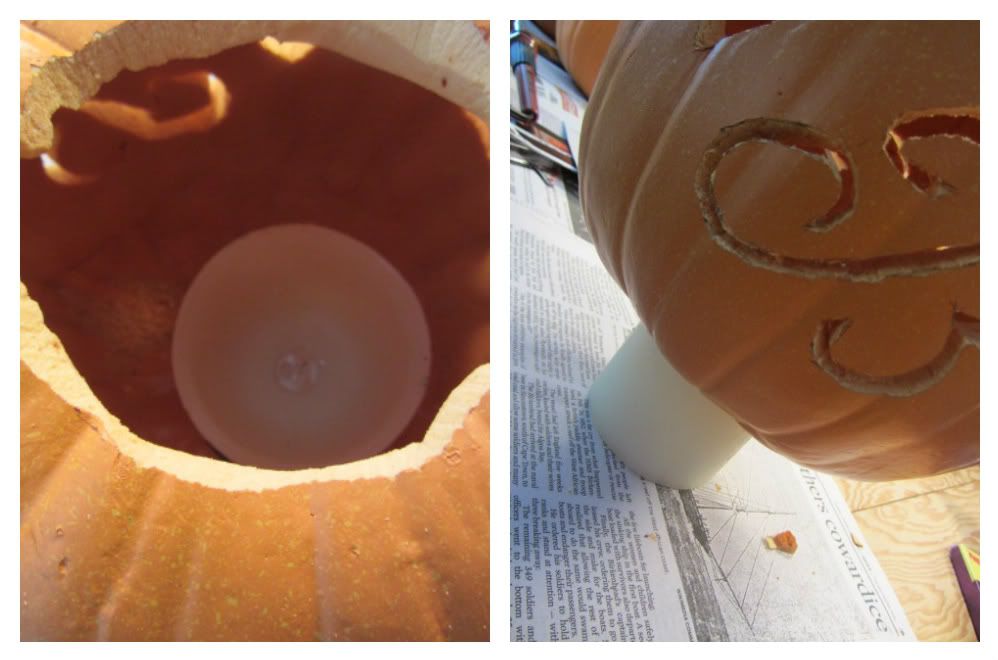 After the holes were taken care of, each pumpkin had to be stenciled with the lettering. We used a stencil on a piece of flexible plastic that my mom traced our letters onto and then cut out with an exacto knife.
Once each pumpkin was stenciled, it was time to use the carving knives packaged with each pumpkin along with a dremel to cut out the lettering on each side of the pumpkins.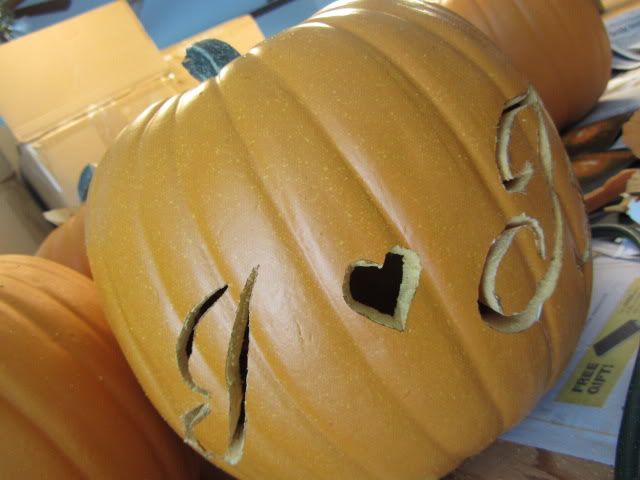 Prepping the pumpkins seriously was exhausting!! I'm so happy that we decided to do two different types of centerpieces and didn't have to do 28 of these!!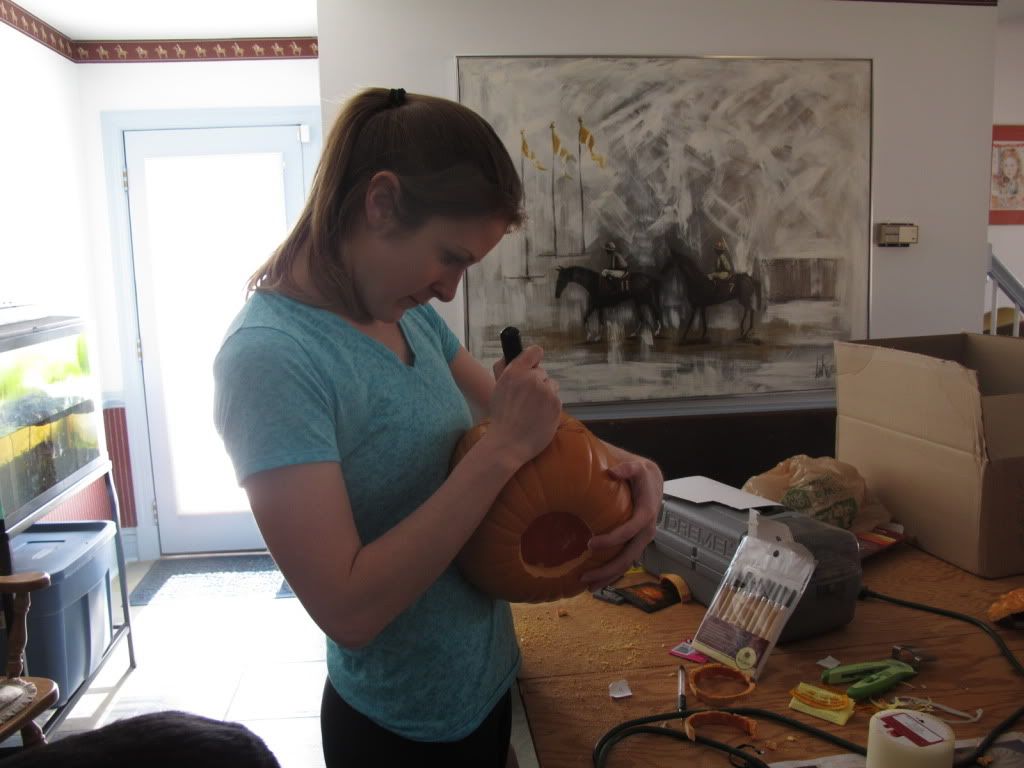 We went through a ton of carving tools and carving each area of the pumpkin was a serious arm workout!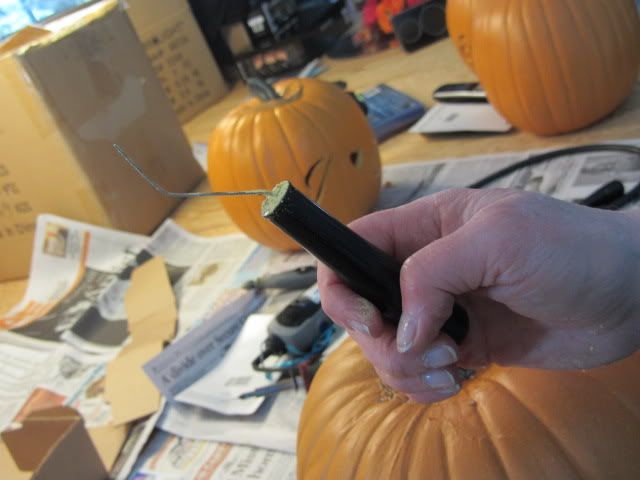 And we had quite the pumpkin patch surrounding us as we worked!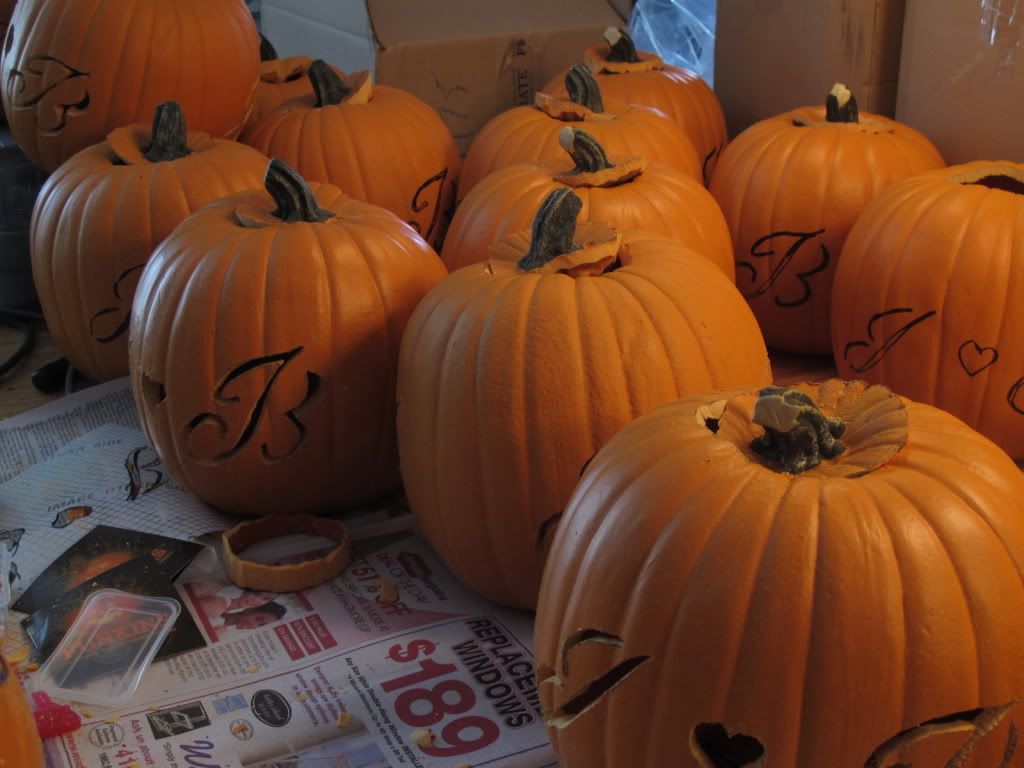 For the arrangements on top, I wanted to use fall colors and leaves but incorporate other bright colors, like pink. In addition, we knew we wanted to have grapes prominent since we did get engaged in Napa Valley and wanted the theme to be an overall "Fall in Napa".
Mom and I went to Michael's and raided their silk flower stock so that she could put together a mock arrangement to see if I liked it (she used to own a florist and is extremely talented in this area!).
Since it turned out to be exactly what I was picturing, we held on to the arrangement so when the real date got closer she could use it for reference while making the actual centerpieces with live flowers.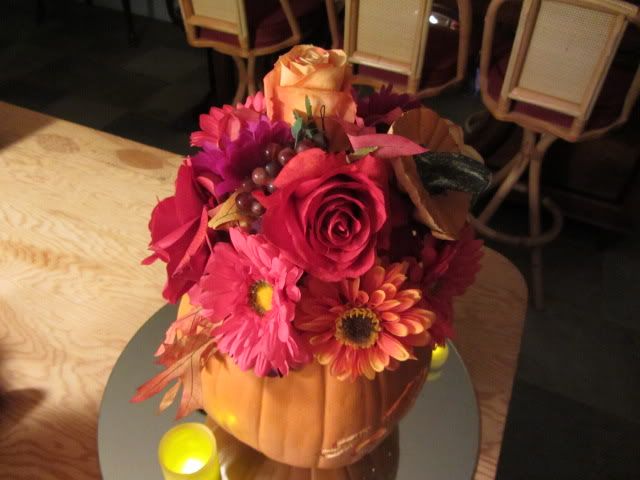 Next up was finding the supplies to put together our second design for centerpieces. A tall glass vase, filled with baby pumpkins, apples and gourds and up-lighting with an arrangement matching that of the pumpkins to sit on top.
It was easy for us to come across the vases we wanted at the floral whole-sale house and within no time my mom came up with another mock-up for a very modern twist on the same arrangement that was on top of each pumpkin.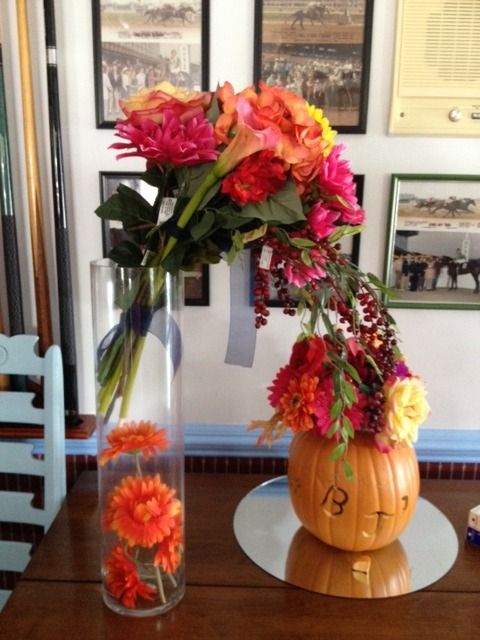 We knew we wanted to add a strip of pink ribbon to the top of the vase and one of navy at the bottom and were only subbing the orange flowers for the orange baby pumpkins, but she definitely came up with something that I loved on her first attempt. Not to mention, arrangements that would make set-up at the reception site very simple!
Once the basics of our arrangements were decided on, we did a full trial run with live flowers about five weeks prior to the wedding.
The results made for even better visuals and also allowed my mom to get a final count of each flower she would need for the centerpieces and bouquets.
A few days before the wedding, we got to work with the flowers and put together all of the centerpiece arrangements so that on our wedding day, those that were setting up the reception flowers would only have to place things where they belonged.  A lot of work but with my mom's skills, it all came together great!  Stay tuned for pictures of the actual wedding day flowers.